Retractable Folding Camping Stool
Are you a big time camper that likes to go out into the wilderness with minimal commodities, but don't want to sit in the mud when it rains? Even just going somewhere that seating is limited and want to ensure a place to rest your legs? Not really wanting your back pockets to soak in that slight standing water. Then the Retractable Folding Camping Stool is for you!
It also great for someone who suffers from knee pain and would would like to rest legs throughout the day.
This nifty little stool is the travel companion for all your resting needs along whatever path your day leads you to. The versatility on the environments it can be on is unmatched, and it requires no balancing act unlike other temporary seats.
This stool is so simple that your kids can do it on their own, making it perfect for their athletic practices, too, and don't need supervision to set it up or take it down. Due to it's plastic design, it is water and mess proof and offers easy care because of this – which is a huge bonus to the versatility it already has!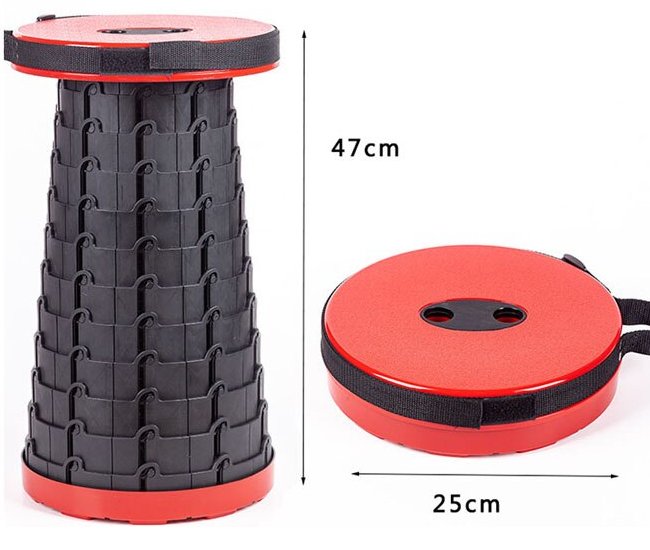 Just pull the two ends of this waterproof stool out like an accordion until it clicks and locks into place. From there, all you have to do is put the wide end of the telescope shape on the ground and sit down!
After you are with the stool, wherever you may be, just collapse the Retractable Folding Camping Stool and carry by the attached handle to your next sitting destination.
Features and Benefits
Collapses into a compact carrying case for easy travel and storage.

Comes with orange, red, and black plastic covers.

Can brace a maximum weight of 130kg.

Portable – Easily fits in small bag

Easy to clean and reuse with just water and household cleaner.

Simple expansion and retraction usability.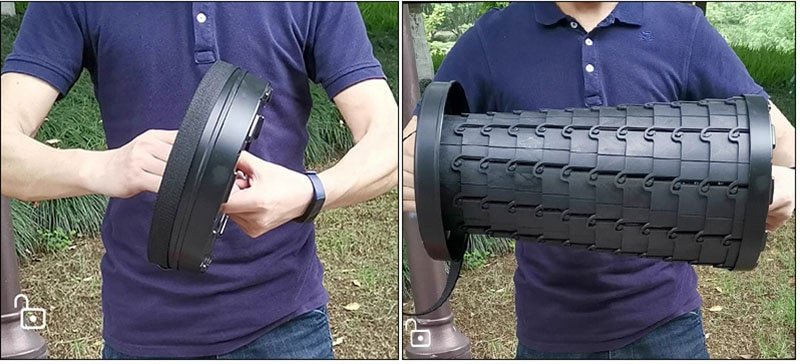 Multipurpose Use
The retractable stool is perfect for indoors and outdoors. Indoor occasions such as the living room, bedroom, bathroom, kitchen, office; Outdoor activities like camping, fishing, hiking, queuing, etc