Foldable Outdoor Sports Water Bottle
Increased flexibility for water storage is one of the main features of our Foldable Outdoor Sports Water Bottle. It's flexible yet sturdy design enables it to fold into 1/3rd it's size without compromising it's integrity when in use.
Provide insulation to maintain the temperature for an extended period of time and can withstand cold and hot liquid. The bottle cap is liquid and airtight sealed and remains firm with or without liquid.
It adopts food-grade silicone, which is durable and reusable. Portable and ensures an easier storage option in bags for all users. A perfect choice for those planning for a hike, soccer, gym, biking and other outdoor activities.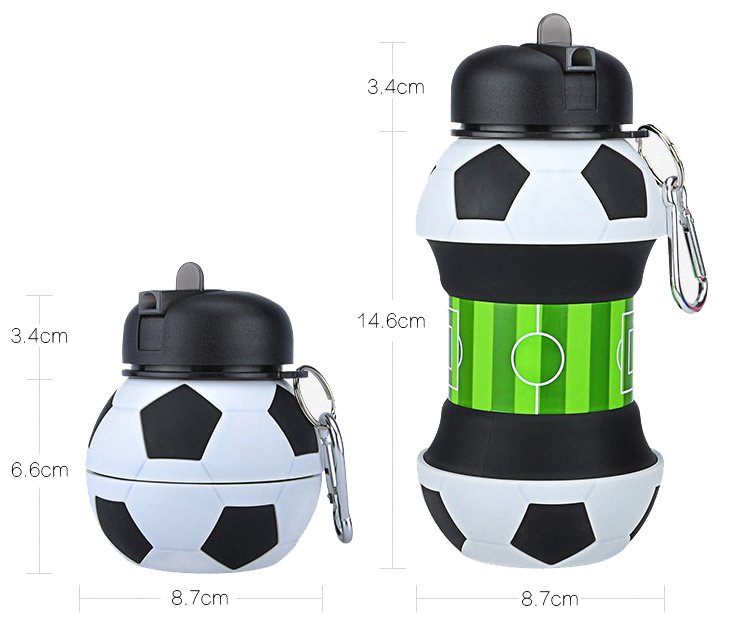 Benefits and Functions
Foldable for outdoor activities, traveling, camping and daily use.

Portable, easy to carry around.

Suitable for water or drinks from -40°F (-40°C) to 446°F (230°C). 

Won't slip in your hand while drinking from it.

Safe, made from patented leak free & BPA-free material. 

Flexible yet sturdy design that enables it to fold into 1/3rd it's original size.
The materials used for the production of our Foldable Outdoor Sports Water Bottle hold a prominent place in reducing environmental pollution. The patented leak free and BPA-free sunction cap enables the user to open the bottle with a simple press and pull. 
Use it for a quick sip while practicing yoga, mountain biking or in any other scenario where simplicity is key.  A flexible water bottle is one of the best options for camping sessions! You can easily carry this storage water bottle in pockets or in a small bag while hiking.
The ability to store cold and warm water is the main feature of this Foldable Outdoor Sports Water Bottle. The temperature maintenance ability of this water storage bottle allow users to keep their water warm in winter during camping sessions.
Durability is another factor considered while selecting a storage bottle for outdoor trips. This sport water bottle is manufactured with platinum silicone to increase the durability as well as it prevent the bottle from accidental damage. 
Specifications
Size: 8.7x18cm

Material:100% BPA free silicone + high quality PP lid.

Parts: Silicone bottle, lid and Carabiner.

Capacity:550 – 600ml/18.6oz.

Temperature Resistance: -40 Celsius to 240 Celsius.