Portable Emergency LED Flashlight Collapsible Lantern
Light up your world with our Portable Emergency LED Flashlight Collapsible Lantern, a super efficient bright energy LED's lantern with a  360-degree beam angle of high-intensity and long-lasting illuminance. Designed to produce ample light but also provide up to 30 hours of operation, depending on the strength of battery used.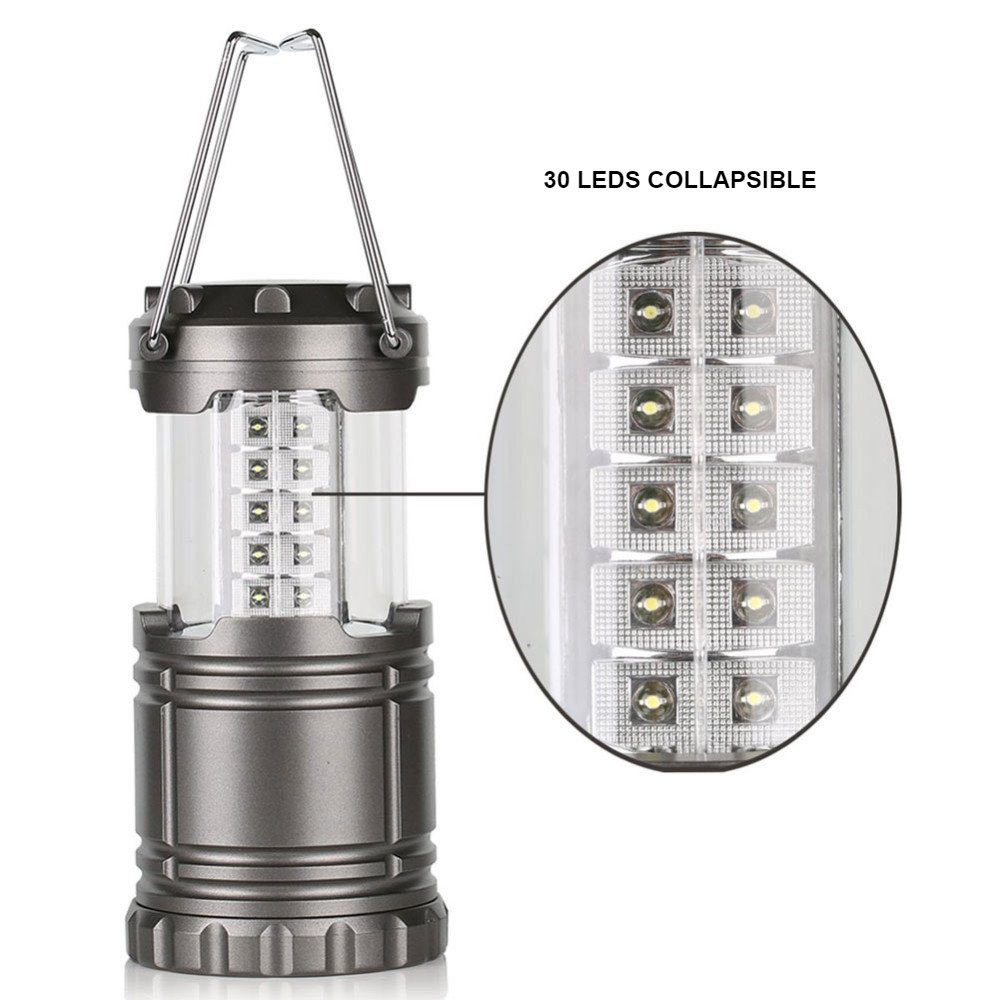 Features and Functions
Advanced Collapsible Design – This Portable Emergency LED Flashlight Collapsible Lantern offer you maximum convenience when you need it most.  Also, it's small enough to fit in your bag.
Energy Saving and Environment Friendly – It

 adopts high quality LEDs, much more safe, durable and energy saving. Lasts more than 10000 hours. No need to replace. It can last you for a very long time.

Unique Telescopic Design –

Super lightweight and compact design. It is easily foldable with a single touch. When not in use, you can turn it into a smaller size to save space. Turn it on or off by unfolding and folding it.

Waterproof –

Stainless steel handle and plastic cover resistant to water, suitable for both indoor and outdoor lighting.

Bright Energy Efficient –

Illuminating the evening sky with Portable LED Outdoor Lantern. It features an omni-directional design and energy saving bulbs LED 30, giving 360 high-intensity.
Specification
Lamp Source: 30 LED

Modes: 1 (on/off)

Switch Type: Push-Body

Net Weight: About 9.17oz/ 260g

Material: Military Grade Plastic

Battery: 3 x AA Batteries ( battery not included)

Over 30 Hours of continuous operation. Depending on the kind of the battery used, brightness will diminish over time.
Our Portable Emergency LED Flashlight Collapsible Lantern is designed for easy storage, promising reliability should you use it during emergencies such as a power outage. It is also lightweight, durable build for any outdoor adventures.

The trusty foldaway handles allow you to carry the lantern by hand with ease, or suspend it above to brighten up your campsite. Otherwise, it can be placed soundly on any flat surface.

Our lantern light is bright enough for indoor, outdoor use, like camping, reading, fishing, power outage, hurricane, storms or emergency backup lights. It is very convenient for you to take it out due to its portable nature. .A great companion for you in the darkness.