LCD Tattoo Mole Skin Tag Spot Removal Pen
You can now remove unpleasant skin tags by yourself anytime! This LCD Tattoo Mole Skin Tag Spot Removal Pen with 9 strength levels is the safest tool to use at home. The innovative skin tag mole remover pen is designed to get rid of tattoo, mole, skin tags, spots without harming the skin.
It works directly by producing low temperature, high frequency plasma on the affected area and get rid of the skin problem. It contains 9 kinds of various intensities for quick and effective treatment.
The lower levels are used for freckles and spots while the stronger levels are ideal for mole, tattoos and skin tags. It easily removes the spot without hurting the skin or causing any damage.
Features
New design that offer more stable control and better performance.

Streamlined body, lightweight and portable, easy for use without hands shaking.

9 gears working intensity can be adjusted to meet your demands on treating different skin problems.

Unique electric ion treatment method, no presence of electric current in the process, mild pain, no bleeding.

Equipped with matchable big and small needles.

Smart LCD screen displays battery and working intensity.

Cordless use, free operation.

Perfect for beauty salon, hospital and home use.

Easy to operate, risk-free and safe to use at home. 

Designed for home use. You can remove dark spots, freckles, nevus, age spot, skin tags, warts, tattoos, birthmark, skin pigmentation, anytime at your home. 
How to Use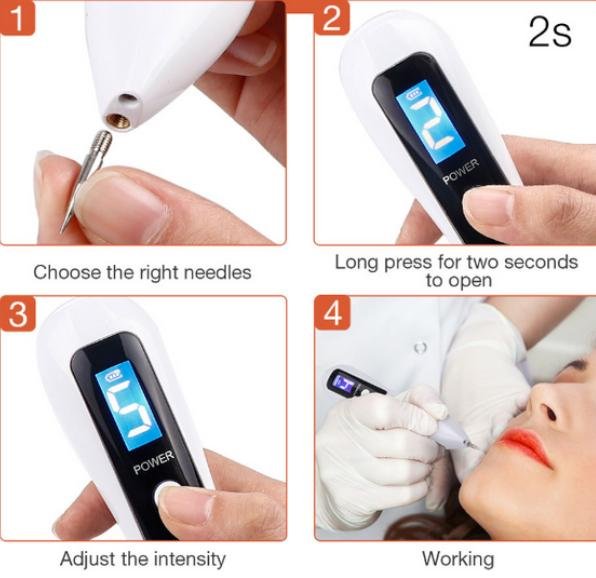 Easy to use: long press the switch button for about 1.5 seconds to turn on and off. For grade change, press "+" for upshift and "-" for downshift. 

Mode: 9 adjustable strength modes. Press "+" or "-" to select the speed you want according to different skin problems. You can adjust our LCD Tattoo Mole Skin Tag Spot Removal Pen to treat various skin problem.

Portable, compact and easy to carry.

Charged with a micro USB cable within 2.5 hours.

Beautiful appearance: The appearance looks very noble and elegant, piano paint (touch comfortable), perfect gift for mother, girlfriend, female friend, daughter.
Specification
Item Type: Spot Removal Pen

Color: Gold/White/Pink/Silver

Material: ABS

Power: 5.5W

Voltage: 3.7V

Battery: 1800mAh

Weight:100g

Size:3.5*18cm/1.38*7.09in
Packaging Include:
1 x Removal Pen, 1 x Coarse Needle, 1 x Needle Sleeve,  5 x Fine Needle, 1 x USB, 1 x Manual and 1 x Box