Anti-Gravity Aerial Yoga Hanging Hammock Set
Our Anti-Gravity Aerial Yoga Hanging Hammock Set can be used in a yoga studio, gym, out in the fresh air or at home. This unique equipment let you practice yoga, train your body and relax your muscles and stretch, anywhere and anytime. 
It offers the best therapeutic effect suitable for inversion therapy for spinal decompression and building upper body strength. Maintaining your health with yoga swing exercises is easy and interesting. No use of weights, so the risk of getting injured is minimal.
Function and Benefits
Relax and meditate. Use the Anti-Gravity Aerial Yoga Hanging Hammock Set for deep relaxation and comfortable rest. Let your full body relax and rest while you meditate, swaying in the air.

Help to relieve stress

Reduce back pain

Strengthen the core

Helps to elongate the spine

Allowing your spine to lengthen, helps to relieve the pain and to heal back problems, improves balance,  increases strength and puts you in a great mood.
How to Install Anti-Gravity Aerial Yoga Hanging Plates
The Anti-Gravity Aerial Yoga Hanging Hammock Set is ready to drilled-in to a mounted ceiling plate. It can also be secured to a branch, pipe or beam with a tightly fitted extension belts tied securely. To make sure it is secured safely on place;
Ceiling should be secure and solid.

Depth of the ceiling hole should be 5-6cm. Recommended to use a 12# drill.

Distance between two hanging plates should be 40-55cm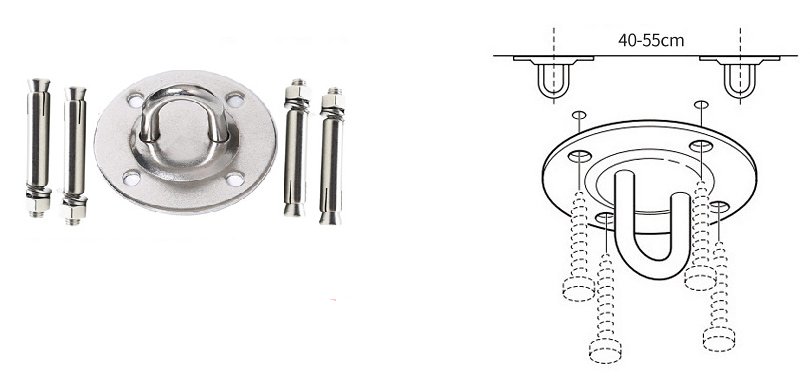 Specifications
Material: Polyester Taffeta also known as parachute cloth

Hanging Plate Material: 201 Stainless Steel

Extension Belt Material: High-Strength Polyester

Net Weight: 6 Handle Hammock (Standard) About 1200 grams

Two Extension Belt + Hanging Plate about 800 grams

Size: 2.5*1.5m
What to Expect 
Instant Pain Relief – After a long day, spend a few minutes upside down and allow gravity to relax and elongate your back.
Injury Prevention – Start strengthening and elongating your spine today to prevent future injury and relieve wear and tear.
Flexibility – Add that extra depth to every stretch with strong and supportive materials that allow you to bend further with confidence.
Core and Upper Body Strength – Provide your core with a dynamic new challenge. Use gravity and inversion to push your upper body and core to the limit.
Peace of Mind – With just a few minutes of daily use, our Anti-Gravity Aerial Yoga Hanging Hammock Set allow you to rest easy knowing you're providing the elongating traction that your spine needs.

Regular use can enhance the body and maintain a healthy body versatility, not only as a yoga hammock, but as well as a swing chair. Also, you can remove the longest part of the hammock, hang it on a tree and use it as an ordinary hammock.