Kinesiology Face Tape V-Line Slimming Adhesive
Our Kinesiology Face Tape V-Line Slimming Adhesive instantly lifts and helps to reduce wrinkles; a good and cheap alternative to make you look younger and flawless. Provides noticeable results on the skin; the lifting has great effect on blood and lymph flow, ensuring the removal of waste & much firmer skin texture!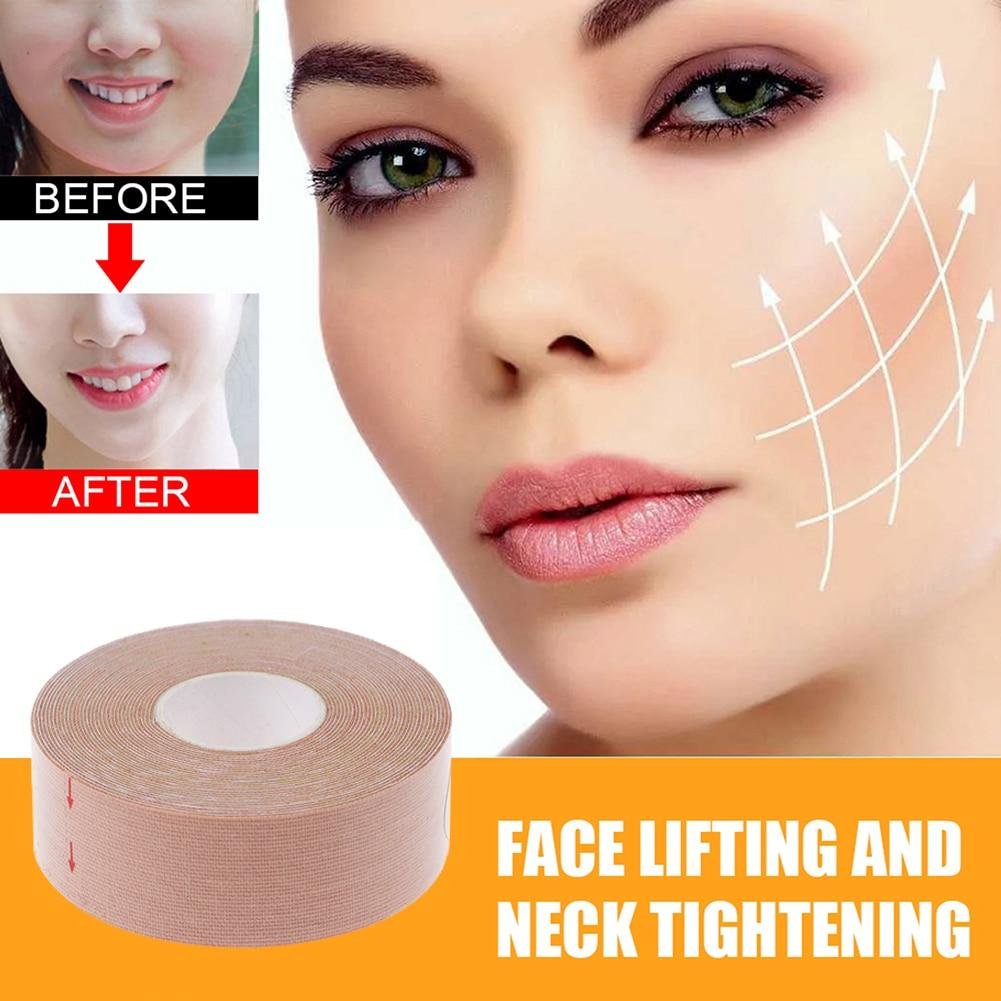 Made of high quality elastic therapeutic cotton with an hypoallergenic acrylic adhesive layer, safe-to-use, latex free materials. This kinesiology tape does not irritate the skin. It's waterproof and can withstand swimming, long showers, intense workouts and much more! 
Features and Properties
Water ripple design to promote subcutaneous tissue circulation.

Made of breathable and comfortable soft elastic material.

Latex-free soft acrylic glue offers strong adhesive and reduces skin irritation.

Strong elasticity to fit a larger area.

Sizes: 2.5cmx5m 

The hypoallergenic adhesive and skin-friendly properties enable the tape to endure much longer!  It ensures long-lasting adhesion due to it special developed glue layer. Besides, it's non irritating and comfortable to take off the skin.
Suitable for Face Lifting, Forehead, Neck and Any Other Body Part

Kinesiology Face Tape V-Line Slimming Adhesive instantly lifts the face, neck, chin and around the eyes. Can also be used during exercise to prevent wrinkles caused by facial compensatory force. Features an elastic band made of high-quality organic long fiber cotton. Treated on one side with special hypoallergenic soft acrylic glue to firmly adhere to the skin. Also, it safe to use for even the most sensitive skin.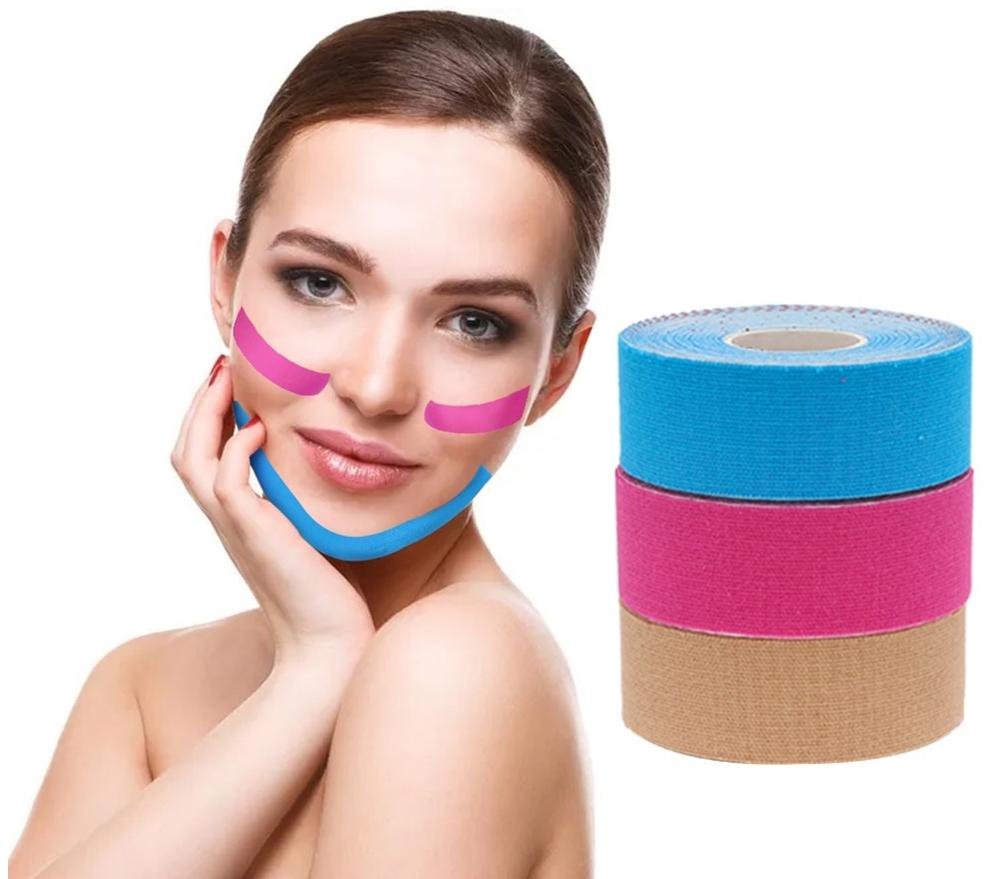 How to Use
First wash and dry your skin.

Cut the tape into right shape.

Pull skin to a smooth line and place the tape over it.

Can be worn more than 8 hours.
Your Favorite Your is Among Our Choices!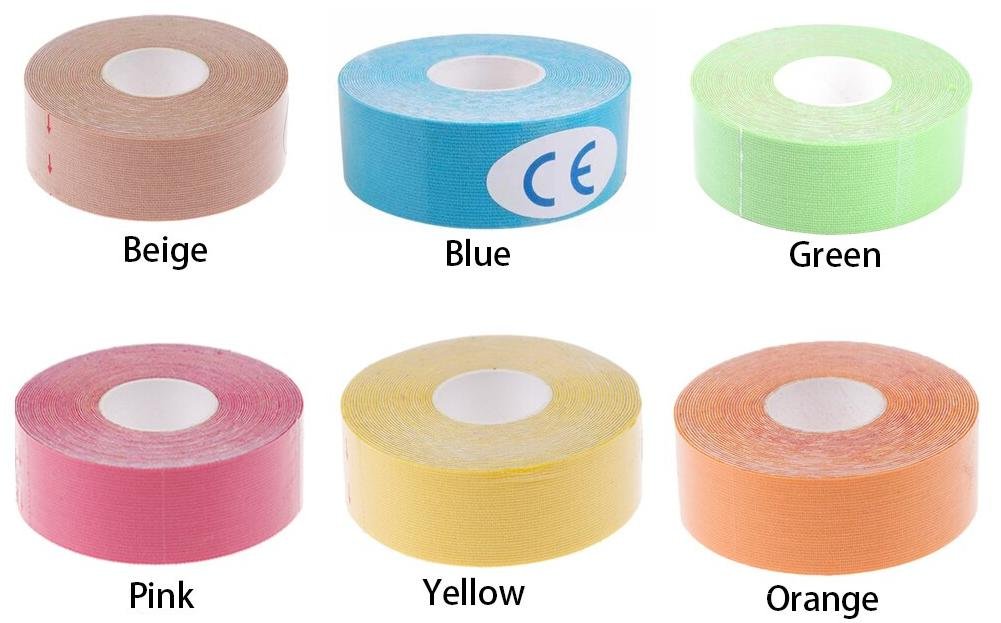 Note:
If you suspect you may have a sensitive skin, you need to test first.

We recommend use after cleaning and drying your face. It is best to use during night while sleeping.

If redness or itching occurs, stop use.

Direct pulling it off might irritate the skin. Please gently remove the tape along the direction of hair growth, not against the hair.

As high-intensity traction will irritate the skin and cause discomfort, please stick it gently and correctly.