Ergonomic Breathable Baby Carrier
This Ergonomic Breathable Baby Carrier will provide your baby with maximum comfort and a perfect comfortable place to stay. It features 3 mode designs in 1 (single carrier strap mode, single stool mode and combination mode) allowing you to change to any model based on what you are doing.
It's unique design with mesh fabric makes the temperature in carrier more pleasant for the baby to stay comfortable. With its wide adjustable strap, our baby carrier offers an ergonomic seat for optimal baby hip positioning along with baby's growth.
Made in a unique way to make sure the weight of the baby is evenly dispersed. The padded waistband provides support you need to maintain a healthy posture when carrying your baby. 
15 Ways to Use

Ergonomic Breathable Baby Carrier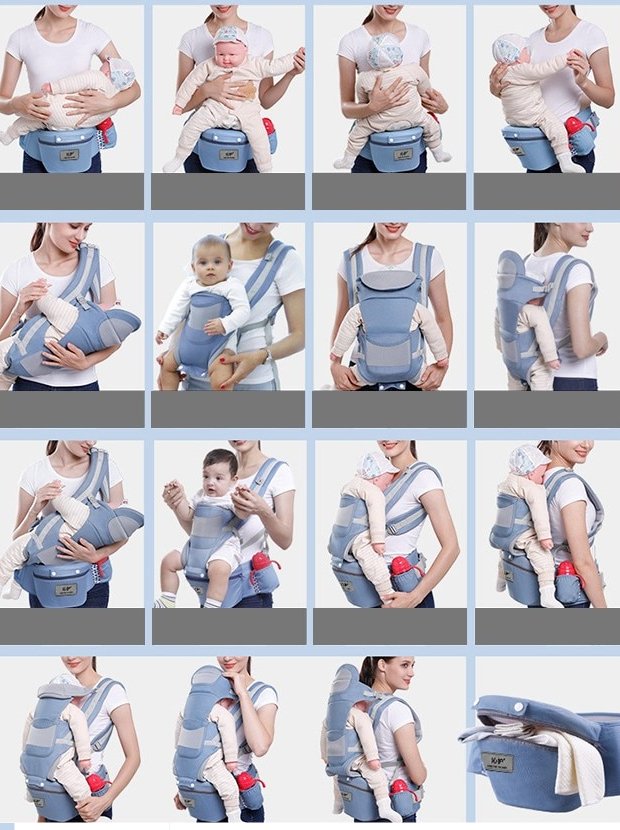 Safe and Secure –  Adopt the back strap and two-fold drop-proof fastener to prevent the shoulder strap from slipping off the shoulder, offering your baby a better protection. The foldable backplate assists in protecting your baby's head and neck. Besides, the M-shaped sitting posture helps to protect your baby's hip bone development without affecting its blood circulation.
The soft and breathable mesh fabric will keep your baby's skin dry and comfortable but not cause any damage. The hip seat is adjustable so as to provide the most comfortable posture for the baby. Besides, the foldable hoop will protect your baby from wind and sun.
With the simple design, our baby wrap carrier is easy and convenient to wear and take off. In addition, it takes no sweat to wrap or remove your baby.
Different Ways to Use (0-48 Months)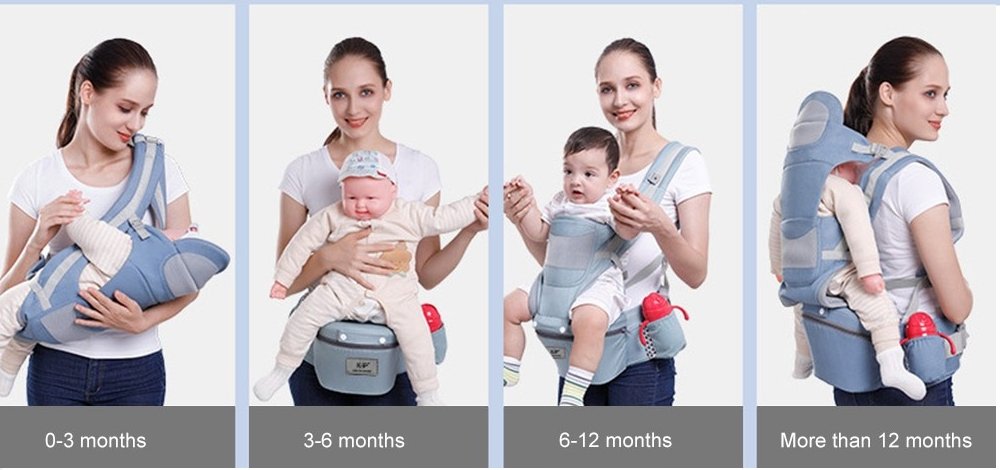 Features and Benefits
Great Breathability – The 3D mesh and breathable design of waist belt increase the overall breath-ability of the Ergonomic Breathable Baby Carrier by 30%, especially suitable for spring and summer.
Comfortable hip seat: Ergonomic padded hip seat makes baby sit comfortably without affecting baby's bone development. Light weight but firmer, no additional burden of wear.

Less burden: Widened shoulder straps and multiple force points effectively disperse the baby's weight and reduce the load on wearer.

Suitable for 0-48 months.

Flexible and can be used in 15 different ways.

With a large capacity storage.

With a long back panel to protect your baby from wind and sun. It also helps in making sure the spine remains protected.

Quality foam cushion design to protect baby legs.

Suitable for summer and other seasons.

Comes in varieties of colors; suitable for both girls and boys and all 4 seasons.