Children U-Shaped Silicon Toothbrush
Make your child teeth brushing process more comfortable and enjoyable with our Children U-Shaped Silicon Toothbrush, a gentle and soft silicone toothbrush that wont hurt the child's gum.  Specially designed for child's delicate and sensitive teeth. U-shaped mouthguard intelligently cleans the teeth, and the brushing efficiency is higher, the teeth are fully wrapped, and cleaned in 360°.
Made from food-grade raw materials with high-permeability, non-toxic and harmless, healthy to use, safe for baby use, giving more assurance to the parents.
Attractive design, compared with traditional toothbrushes, it is novel and unique in shape and eye-catching. There are 2 colors to choose from, making babies love brushing teeth more.
Our Children U-Shaped Silicon Toothbrush features round and comfortable handle, made of light and comfortable material, no need to turn the wrist, adapts to the habit of brushing the baby, the process is very simple.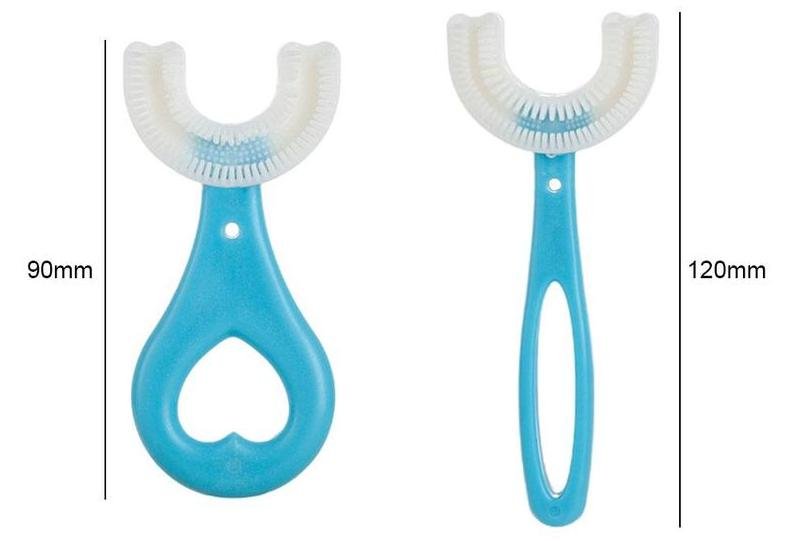 Specifications
2-6 years old, length 90mm

6-12 years old, length 120mm

60ml Strawberry foam toothpaste for children

Material: Food grade silicone + PP

U-shaped soft rubber brush head, smart teeth cleaning and safer.

Round and comfortable handle, twist and twist-you can brush your baby teeth in just one turn.

Brush the child's teeth 2 times a day. Replace the toothbrush every 1-2 months.