Portable USB Baby Nursing Bottle Warmer
1789 in stock
Are you worried your baby's cold milk is not good for the stomach? No need to worry anymore! Our Portable USB Baby Nursing Bottle Warmer will instantly warm your baby milk anywhere, anytime. A perfect solution for your baby and great for those who are constantly on the go. Simply plug bottle warmer into a powerbank or into the 12v usb port in your car to keep your baby milk warm.
Travel with peace of mind knowing your baby's bottle will always be warm and ready with this portable bottle warmer bag. The 360 degree zippered closure with insulated lining keeps bottles warm and can also heat up a cold bottle within 15-20 minutes.
Features and Benefits
Material – Oxford cloth + constant temperature heater
Power  Output – 18 (W)
Large Capacity – It holds and heat up to 2 bottles or keep them warm at the same time.
Real-Time Display Temperature – The electronic screen displays clear heating temperature in real time.
Easy to Carry Outdoors – No time to heat the milk, just carry the warm milk bag or hang it on the handle of the stroller.
Universal Models – Universal design for multiple models of vehicles.
Safe and Easy to Use – Our uniquely designed Portable USB Baby Nursing Bottle Warmer heater quickly heats up your baby's bottle.
Convenient – Keeps milk at a safe and constant temperature making sure it ready when feeding time comes.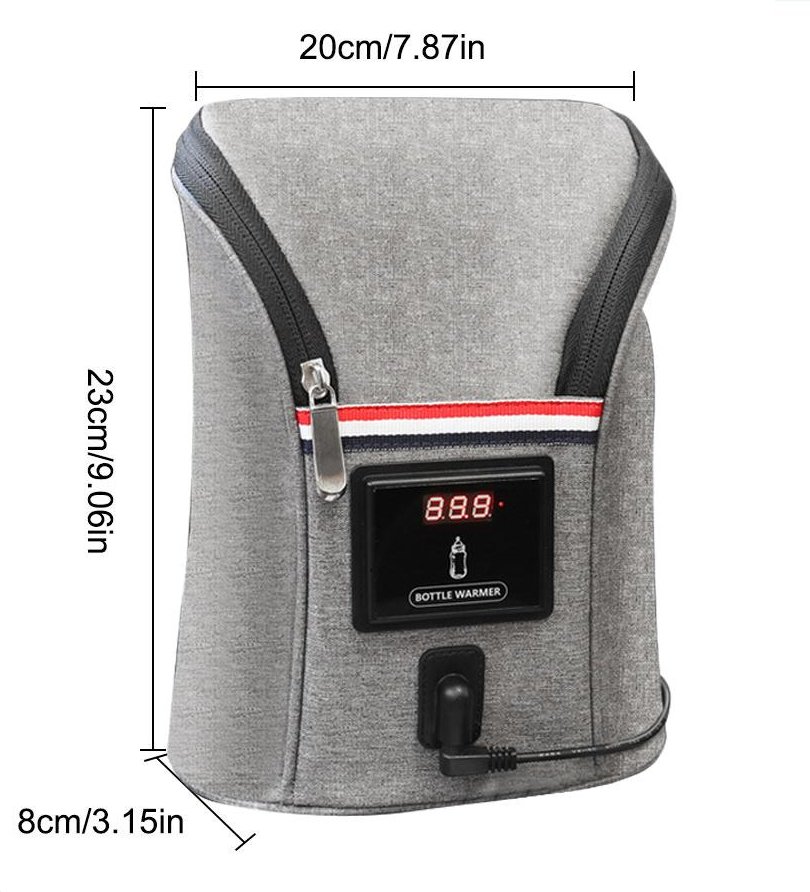 Small Details for Large Use –  With buckle design, it can be hung anywhere.
Rated Voltage – 1.5-1.6A 12
Insulation – 40-45 degrees
Size – About 23*8*20cm/9.06*3.15*7.87in
Our Portable USB Baby Nursing Bottle Warmer supports car charging heating and is equipped with car charger.