Children Diaper Skirt Shorts 2 in 1 Anti Wetting
Our Children Diaper Skirt Shorts 2 in 1 Anti Wetting is one of the most important essentials for new mums and dads who want to keep their babies clean and comfy, during play and sleep.  This comfy children diaper skirt is everything you've been looking for!  It is convenient and made of high-quality cotton material to make sure your child remains wet free throughout the night.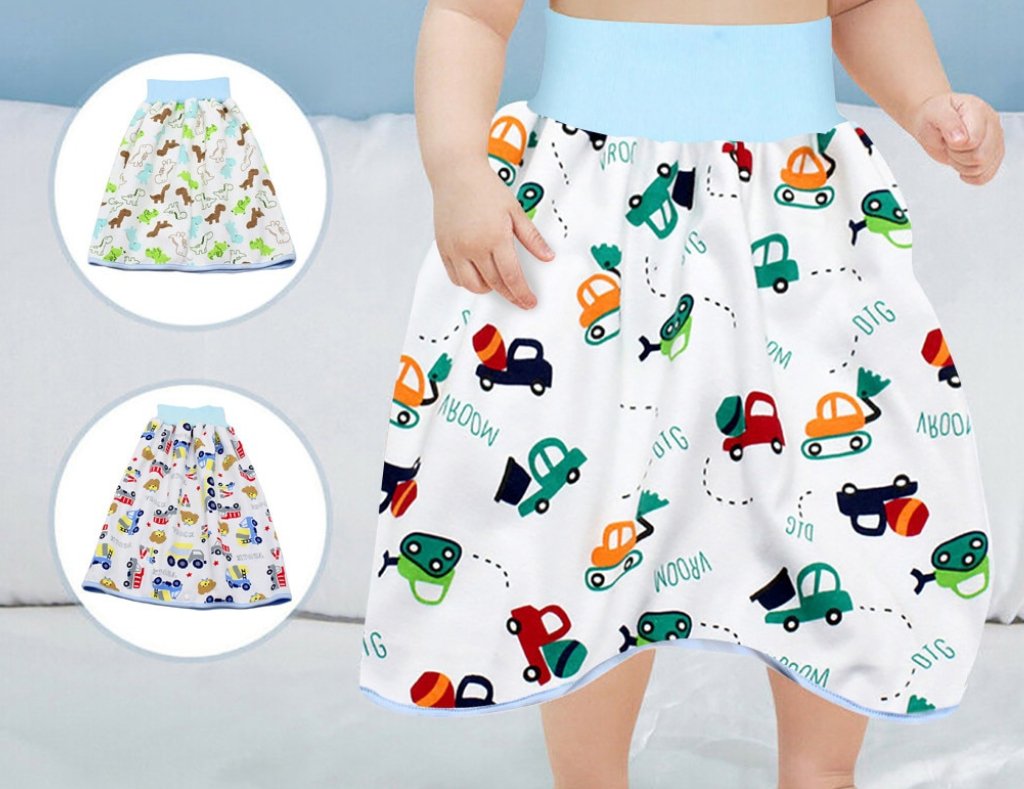 The TPU waterproof layer hold a lot of liquid. They are perfect for night sleep as they are more breathable and comfortable. They also do offer extra child protection from mosquito and other small insects due to their longer length.
Also, great for older kids with bed wetting problems as they can prevent urine leakage on the bed during the night.
Size Reference
| | | | |
| --- | --- | --- | --- |
| Size | Recommended Age | Waist | Length |
| M | 0-4 Years | 34cm/13.4" | 42cm/16.5″ |
| L | 4-8 Years | 37cm/14.6" | 52cm/20.5" |
Features
Scientific Design – Our Children Diaper Skirt Shorts 2 in 1 Anti Wetting features a high waist and a built in 2 split button to make it easy for baby to wear. The two buttons also prevent skirt/short from turning up while at the same time having enough room for babies to move around.
Double Wide Elastic Band – Give comfort and protection to baby's belly, comfortable and stretchy.
Strong Absorption Cotton 

– It can hold a lot of urine and prevent leak hence helping your baby enjoy a good sleep whole night!

Adorable Pattern – It features cute animal and beautiful colorful patterns that make your baby feel interested in wearing it.
Absorbent Material – Build-in TPU design, inner layer super soft terry cloth and cotton outer layer give baby the best comfortable feeling and and not harmful to the skin.
Super Comfortable – Our advanced diaper booster construction features a fluff-based material, that feels like velvet on the skin and captures moisture before it escapes the diaper.
Note: These baby training pants & skirt are used to prevent secondary side leakage caused by excessive urine at night. Since the product is not a close-fitting diaper, it does not have the side leakage prevention function of a tight-fitting diaper. It needs to be used with a tight-fitting diaper.