Adjustable Stand Children Boxing Pear Speed Ball
157 in stock
Our Adjustable Stand Children Boxing Pear Speed Ball is the perfect option to sharpen your child's reflexes. It can improve a child hand-eye coordination ability as well as enhance physical strength and establish confidence.  Besides, it is a perfect enlightenment tool to teach children how to do boxing.
This boxing ball is a fantastic way to get your children to be more active and spend less time on their phones or computers. Ideal and safe to play with both in house or outside. Adjustable Stand Children Boxing Pear Speed Ball will take their skills to the whole new level. Created to help them increase their agility, eye-hand coordination and reflexes in no time while being fun to use.
Specially designed with children safety in mind, it allows for a 90° bending angle and easily bounce back and forth, countless time without getting damaged. Suitable for every child, no matter the age or skills level.  Basically, it can acts as an important part of children growth by helping them train their reaction, agility, punching speed, fighting skill while providing them an interesting way of working out.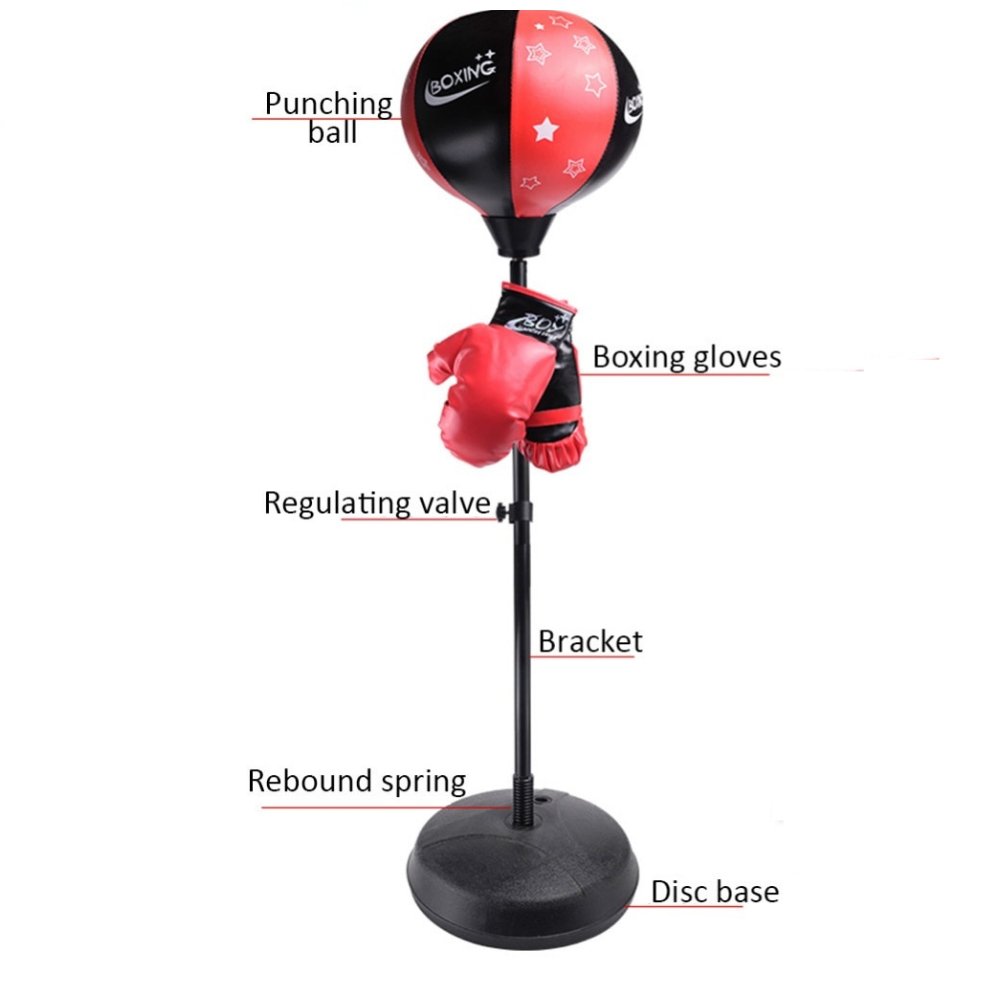 Features and Functions
Great for boxing exercises, improve hand-eye coordination, train boxing reaction and punching speed.

Help to build up your child body, soothe your child's stress from school and study.

Our Adjustable Stand Children Boxing Pear Speed Ball is safe for use by all age groups.

Help you get your kids away from using computers and mobile phones all day.

Help to enhance endurance & body reaction.

Perfect for indoor & outdoor exercises.

Increase focus, concentration & confidence to kids of every age.

Adjustable Height –  This punching ball can be adjusted between 33.5″ to 43" to meet kids at different ages and heights. It will accompany your kids as they grow and add a wonderful memory to their childhood. It is the best gift for children and great for parent-child interaction.
Anti-Slip Base for Children's Safety –  Anti-skid base ensures its durability and your kid's safety at the same time. Freestanding design doesn't require water or sand injection; it features the best stability as the child's weight is on it. Bedsides, compact design is very easy to store.
Durable Material for Long Time Use – Made of PVC leather, steel and high quality plastic pedal, this punching set is damp proofing, anti-collision, rust-resistant. Once it get dirty, you can use a piece of wet rag to wipe it clean. Also, our boxing set features a strong and durable spring at the base of shaft, which allows the punching bag to bounce back into position every time after every hit.
Fun for Kids & Great Holiday Gift – You and your child can keep fit while having fun with this boxing bag together. Apart from that, this standing punching bag is a great gift for kids, especially for any kind of special holiday or event requiring a gift.
Specifications
Material: Ball – High Quality PVC Leather, Steel Bracket and Plastic Pedal
Color: Black Red
Product Size: Adjustable Height: 31inches – 43inches, Ball Diameter:20cm