Portable Baby Bottle Storage Drying Rack
Tired of keeping your baby's bottles in an open and unsafe place? Then, you need this Portable Baby Bottle Storage. A perfect storage box for all kinds of your baby bottles and other small utensils.
Made of high quality eco-friendly PP material, non-toxic, BPA free and it is safe for your baby to use. Features a multi functional support rod, which is ideal for storing nipples, pacifiers, among other items.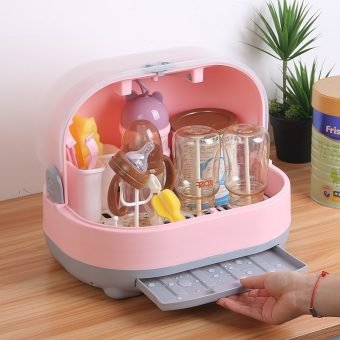 Features and Benefits
Suitable for storing baby nursing bottles and other small items.

Use it to store cutlery or tea cups, dining utensils, kitchen seasonings and so on.

With support rods and bottle support holders to hold baby's bottles and other accessories easily.

Gift Idea – A perfect gift for Christmas, baby shower and family members with small children.

Multi-Purpose – Can be used as a bottle storage box and bottle organizer for home and travel.

It can acts as an infant counter top for accessories as well as a kitchen cabinet organizer.

Great hygiene – Anti-dust cover protects it from dust and bugs with a tray to easily drain water.

A Portable Baby Bottle Storage with large internal space and reasonable layout.

Thickened box material, intimate clamshell design.

Storage box with drainage rack.

Also perfect container for buffet cake, dessert, butter, steak, etc.

Size: 35x28x29cm