Wall Mounted Dry Food Dispenser
Our Wall Mounted Dry Food Dispenser consists of five main compartments and one large compartment. It is suitable for all family as it provides easy access and promotes a healthy living environment. With all of the food readily available, all of the family members can enjoy meal times. These mountable dispensers offer a safe storage for all dry foods such as cereals and coffee.
With removable lids, it is easy to fill up the containers. There is room for 20kg of delectable across all of the containers and the largest container offers room for up to 6kg. The containers can be mounted on the wall and this creates ease and the option for the container to be positioned in your kitchen in the most suitable place.
Features and Benefits
Multifunctional

Easy to use

Convenient

Provide a healthy lifestyle

Suitable for all families
The measuring cup allows the food to be emptied from the Wall Mounted Dry Food Dispenser and buttons offer a practical design. The simplicity of the buttons means that the right amount of food is in the container. This ensures practicality throughout the day.
The vibrancy of the food in dispenser means that there is an enticement for a healthier living lifestyle. The colors of the food on show and all of the choices give everyone the opportunity to enjoy spending time in the kitchen and enjoy cooking.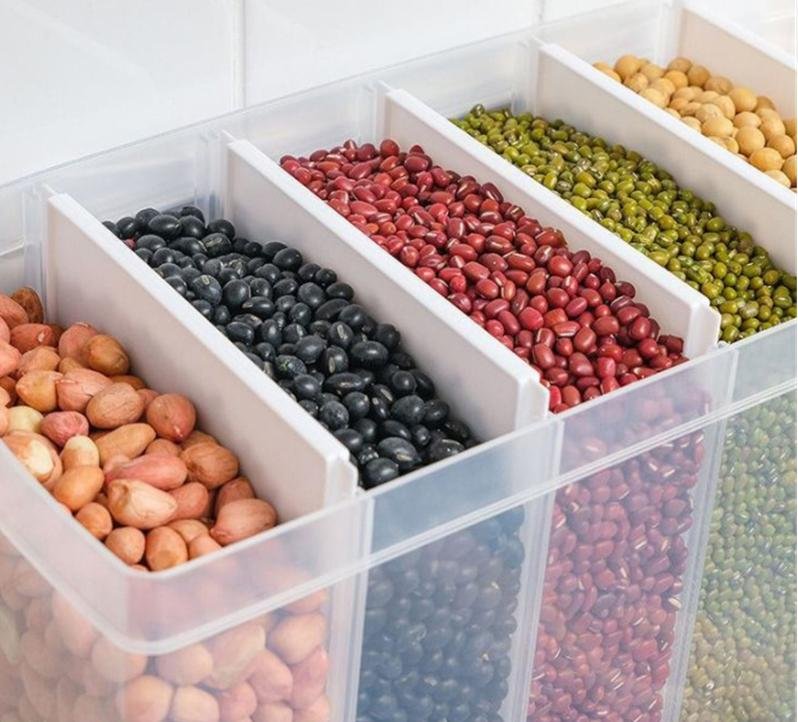 With a measuring cup and room beneath every compartment, this offers convenience. This means that meal times can be enjoyed more and there is time for all of the family to spend together.
The buttons offer simplicity and the easy release mechanism ensures that waste is reduced. These food storage containers are the best financial and convenient choice.