Vegetable Fruit Onion Slicer Cutter
Turn your cooking time to fun with this Vegetable Fruit Onion Slicer that allow you to chop, slice, cut and cube your favorite veggies and fruit effortlessly.  A reliable versatile all-in-one kitchen tool that is perfect for preparing salads, salsa, onions and more, portable and easy to store.
It delivers fast, consistent results in a transparent and convenient container. Even the toughest potatoes and the crunchiest carrots will be a piece of cake within no time. 
Made of hardened stainless steel discs. No bending and rusting. BPA-free, Pro grade heavy-duty reinforced food-grade ABS for premium break resistance. Non toxic and safe, keeping the original flavor of the fruits and vegetables.
This Vegetable Fruit Onion Slicer comes with 7 Interchangeable ultra-sharp German 420-grade hardened stainless steel blades that are resistant to rust.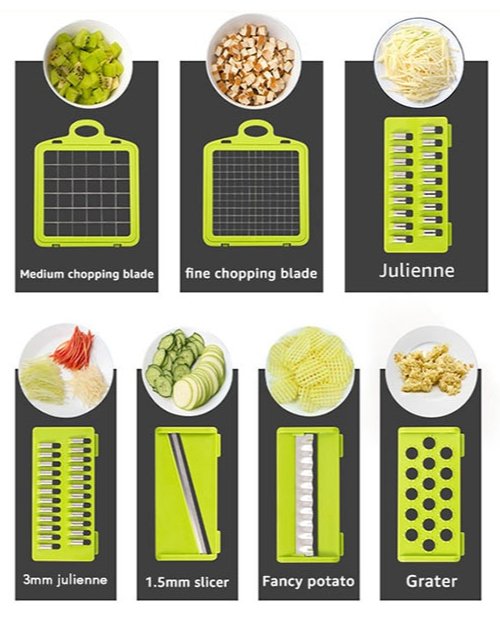 Features and Benefits
Multi-Purpose – Ideal for chopping and dicing fruits, vegetables and cheeses in a professional manner, helping you prepare meals in no time. 
Amazing Slicing skills – Use the 7 interchangeable blades to improve your slicing skills; slice, chop and cut your vegetables.

The julienne slicer will allow you to create beautiful garnishes for your dishes and steal the show!

Time and Money Saver – Our multipurpose vegetable chopper makes meal preparing easier than ever. Plus, you don't have to waste your money on individual kitchen accessories anymore.
Gift Idea – Surprise your loved ones with our versatile and sturdy vegetable fruit onion slicer and chopper. Great gift too for all mums.
Safe and Durable – BPA-free and safe, but also extremely durable! The ABS and PP plastic and ultra-sharp stainless steel blades can endure any abuse without skipping a beat!

Blade Storage – Comes with its own blades storage container, never lose them or spend time looking for where you kept them.

Save 70% of Your Time – Say bye to watery eyes when slicing onions.