Booty Belt Resistant Bands For Workout
This Booty Belt Resistant Bands is a multi-functional exercise trainer, all in one design, can be used as hip resistance bands, ankle resistance training, leg exercise band, jump trainer, speed training and so on. Build, sculpt, lift and tone – see faster results and get a perfect booty!
The booty belt strengthens and build all three glute muscles- Maximus, Medius & Minimus to help you rapidly develop a perky, lifted and firm butt. Takes just 5 minutes per day for 30 days!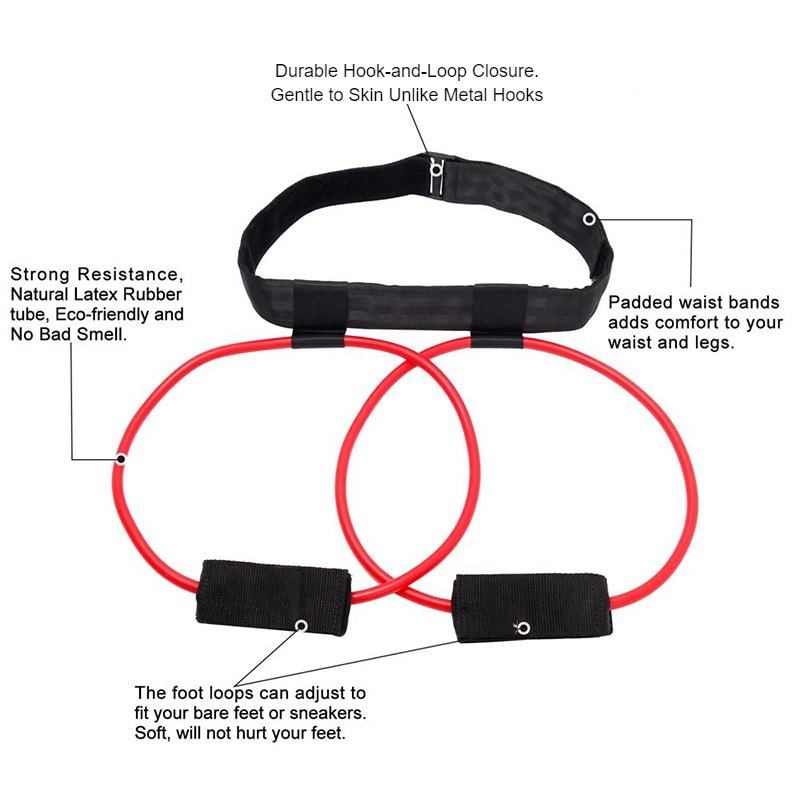 The two movable and adjustable hooks at the back allow you to customize the fit to ensure a more comfortable workout.
Features
Natural latex rubber, eco-friendly and durable.

Durable hook and hook closure. No metal hook.

Comfortable belt with super Velcro, resistant to tear. Fit to use in summer.

Two adjustable buckles, comfortable and easy to wear.

Two movable and adjustable hooks, easy to adjust to right size.

Portable, light weight and easy to carry around.
Booty Belt Resistant Bands fits until waist of 42 inches
Comes in 5 levels of resistant;15 lbs for Yellow Band, 20lbs for Red Band, 25 lbs for Blue Band, 30lbs for Green Bands and 35 lbs for Black Band. You can choose any of the 5 belts depending on how strong you would like your resistance to be. Our butt bands can be applied in five different ways to increase the level of resistance up to 75% more. So, you can apply it according to your level of strength and height.   
Our booty belts bands gives you an entire core workout, effectively shapes and sculpts your body curves. Let you have a charming bikini body and become the envy of your friends!