3 in 1 Ultrasonic Cellulite Slimming Massager
Tired of Using Expensive Pills With Slow Results? Ease pain, lose weight and rejuvenate skin all together with this handy 3 in 1 Ultrasonic Cellulite Slimming Massager. Keep healthy your way and try it out today!
Our 3 in 1 Ultrasonic Cellulite Slimming Massager allows you to slim down fast and easy! 3 in 1 Massager (Ultrasonic, Infrared & EMS) can rejuvenate your skin and body!
Benefits
Skin Rejuvenation – Help activate cells and skin and regenerate skin elasticity for better looking and feeling skin. 
Treats Pain – Effectively treats severe aches and pains all over your body. 
Regulates – Aids the regulation of secretion and helps body reduce fat faster which aids in weight loss.
Microcurrent – Microcurrent technology stimulates the muscles and massages the body for a more relaxed feeling.
Convenient – Stylish, slick and minimalist design in a handy size and easy button control for your convenience and pleasure. 
Safe – Safe to use on face and body. Non-invasive. 
This microcurrent technology technology helps the body regulate internal secretion and accelerates the consumption of fat. 

How Does it Work?
Our 3 in 1 Ultrasonic Cellulite Slimming Massager covers a multitude of problems we face in the everlasting search for beauty products that live up to the hype. Mini and stylish in appearance, this device is convenient to carry and very easy to use. 
Fat deposits are broken down and eliminated by the body. Improved blood circulation helps to reduce aches and pains.
Massages with microcurrent stimulate muscles with passive movement under the skin. This movement consumes fat, sugar, and carbohydrate of the surrounding tissue.
Slimming and Toning – Ultrasound technology helps to break down fat by decreasing waste around fatty tissue and tightens skin. 
Usage
After bath or shower, lather up the body with cream or oil and massage the cream until it's fully absorbed.
**Do not rub on dry skin**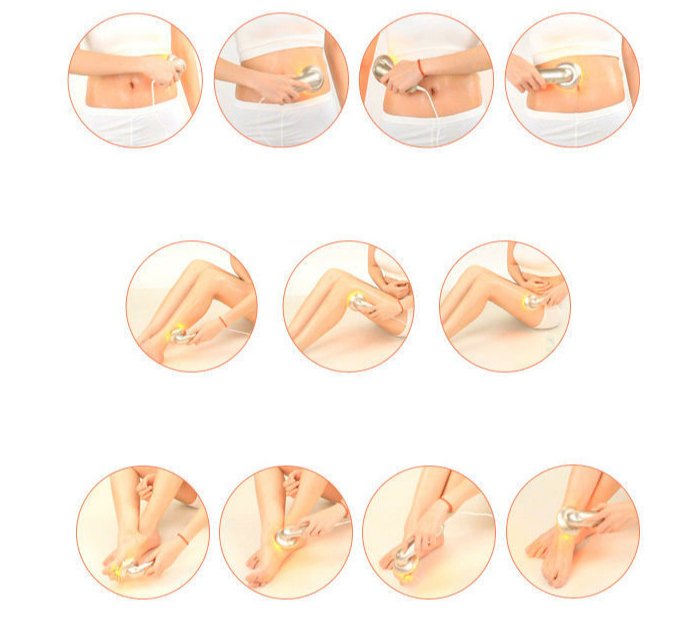 The facial and body infrared tool removes fat, targets wrinkles and improves skin texture with constant use.
Multiple Use