Electronic Organizer Travel Large Capacity Bag
Keep everything in place and organized with our Electronic Organizer Travel Large Capacity Bag, a great companion for your items.  All items can easily fit and be secured nicely in place due to its large capacity.  Whether you are at home or travelling, our organizer bag offer you a space for cord management, small gadgets, devices, and other electronic accessories.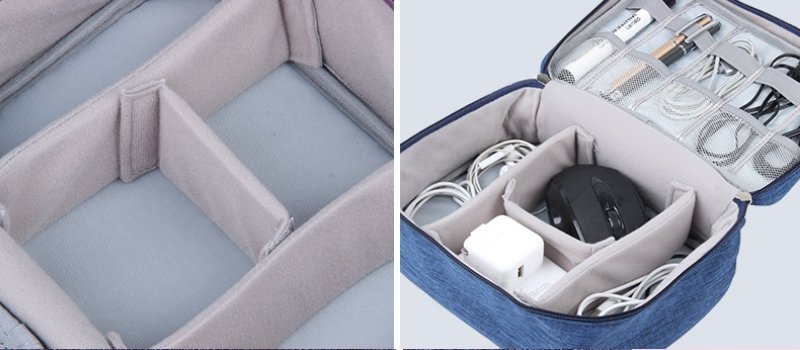 Features and Functions
Multi-Functional Bag – A simple and effective Electronic Organizer Travel Large Capacity Bag that provides excellent flexibility to carry your cables, USB drives, adapters, phone chargers and other devices.  

Great to use as a makeup bag.

Large cable storage bag, with 5 elastic loops, 5 mesh pouches, USB flash drive, charger and other accessories. Dimension: 10x7x4 inch.

Keep all your laptop electronic accessories like power adapter, charger, mouse, power bank, cable, cellphone in one place

without items getting tangled or damaged.

It's light weight and compact design allows for easy packaging in a luggage, suitcase or backpack.

Protect your cables and small items from dust, keep them clean and tidy.

Pocket Design – This electronic organizer multiple mesh pockets and elastic loops provide great flexibility for organizing your accessories; keep your essentials well-organized and easy to access.
High Quality and Waterproof – Made of water-resistant oxford nylon, it protects your items from scratches, dust, accidental dropping and at the same time it ensures the safety of your electronics items.
This makes this Electronic Organizer Travel Large Capacity Bag a perfect accessory for every person.
Spacious – The interior compartment has enough space for storing various small, medium as well as larger items.
Organized – Keep all gadgets in one spot while enabling you to find whatever you need quickly.

Save you time when going through the security check on the road or airport.

Protection – Well padded water repellent nylon material protect your accessories from moisture as well as scratches.