Reusable Washable Undershirt With Sweat Pads
It feels confidently beautiful raising your arms high without worrying about stains and odors on your armpits. But if you are one of those suffering from sweaty arms, don't lose hope. Our Reusable Washable Undershirt With Sweat Pads come to your rescue.
What great is that they are reusable so you can conveniently wear them without straining your budget. This product is a 1 piece T-shirt-shaped sweat pad that is antiperspirant and washable so you can always reuse it.
Size Reference
M: Bust 79-87CM (Suitable for 40-60 kg)

L: Bust 86-94CM (Suitable for 55-80 kg) 
Each shirt has 2 pads inside ensuring absorption of your sweat leaving your armpit dry, it has a mesh design,  specifically designed for women of all ages. You can choose from the 3 earth colors that suit your need, white, skin tone, and black.
It also comes in 2 sizes, a medium that suits well for women weighing 40-60 kilos, while large perfectly fits women from 55-80 kilos. Quick-drying and super absorbent so you will be saved from wet armpits. Upon measuring, please allow a 1-2 cm allowance due to manual measurement. 
Benefits and Features
Controls perspiration and keeps your outer apparel fresh and dry for hours.

Washable and reusable saving time and money for dry cleaning.

Prevents staining and armpit odors.

Safe to use for all skin types.

Super absorbent and stays cool and dry.

comfortable to use with its soft and elastic fabric.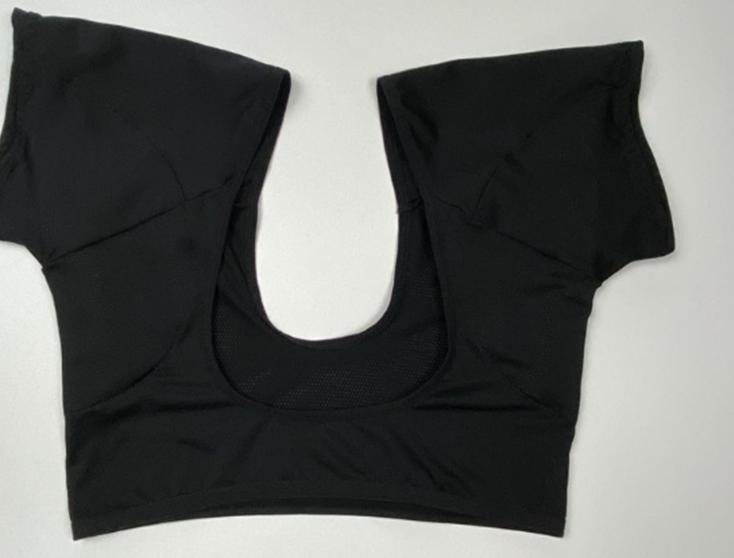 To maximize the use of the shirt, hand wash is recommended for the proper care of the product. It can also be worn as an inner garment for your different styles of apparel.
Deodorants and other antiperspirant products will always still be useful to you but if you want extra protection, then wearing this Reusable Washable Undershirt With Sweat Pads will save you from embarrassing moments and will make you confidently raise your arms without worrying about sweaty and staining armpit. Choose your color and style now and be worry-free from sweaty underarms.