Multi-Function Adjustable Shelf Balcony Drying Rack
Having problems drying your clothes in a tight space like an apartment or a student living in cramped boarding rooms, then you definitely need this Multi-Function Adjustable Shelf.  It is easy to use and versatile, can be used in kitchen and bathroom balconies. The hook position is also adjustable and can be fixed to most window balconies.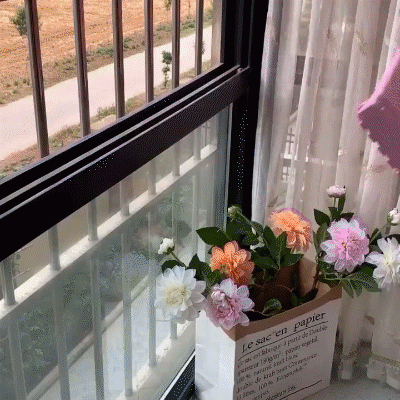 Durable with high-quality carbon steel, it can support up to 20 kg. Practical without a drill, without the hassle of installing it, can be used to dry clothes, shoes, underwear, socks, bags, dolls and others in tight spaces, on fences, balconies, windows comfortably.
Benefits and Functions
Very easy installation method, without bolts, without a drill, just hang it.

Detachable and easy to move.

Made of stainless steel, durable and strong.

The hook has teeth that can be adjusted as needed.

Anti-slip design, so you don't have to worry about being slippery and won't fall easily.

Takes up less space, the hooks can be folded and stored when not in use.

Partitions can be disassembled as needed.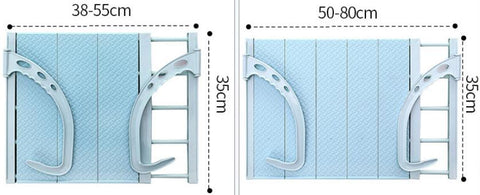 Does not require special skills to install.

Light but strong – can withstand a fairly heavy load of up to 20kg.

Suitable for apartment balconies, radiators, house windows or guardrails.

Made from high quality materials – PP plastic and stainless steel pipe.

Available in multiple colors – brown, white, blue and pink.

Ideal for homes with limited space like dorms, condos or apartments.

To maximize space, it can be hanged either vertically or horizontally.

Sizes available 38-55x35cm and 50-80x35cm.
Our Multi-Function Adjustable Shelf is sturdy and stable, strong enough to accommodate different kinds of items at once. It can withstand a maximum weight of up to 20 kg, making it ideal for heavy clothing such as outerwear.
This drying rack is a must have item, especially for those with minimum space! When you are done using, it folds up for easy storage. It's flexibility allow it to be stored under almost any piece of furniture or in a drawer.