Cute Pet Cushioned Tent Detachable Top
Our Cute Pet Cushioned Tent provides your pet with the touch of privacy they deserve while giving them plenty of room to stretch.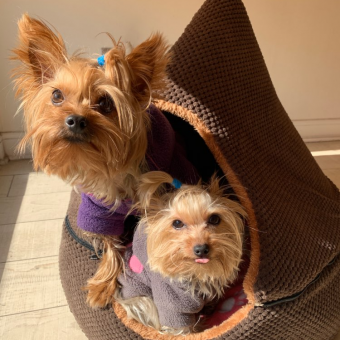 Made from contemporary shape and fabrics that will match any decor with the lasting look of neutral colors. Our premium materials and quality construction will stand up to even the deepest of dreamers.
Versatile Design – Our Cute Pet Cushioned Tent comes with removable teepee top with luxuriously soft foam bed to provide your cat with ultimate comfort. Teepee top is removable for easy cleaning and storage. Easy to assemble and disassemble for travel so that you can keep their home consistent wherever you take your pet.
Detachable Teepee Top
Note: All the components are machine washable. Wash on delicate cycle, then air dry.
Size Reference (Height x Width and Length)
Small – 47x43x43 (Suitable for pet up to 6kg)
Medium – 56x56x56 (Suitable for pet up to 11kg)
Large  – 66x70x70 (Suitable for pet up to 18kg)