Car Tire Anti-Skid Snow Chains Adjustable
Tired of your car sliding during bad weather? These Car Tire Anti-Skid Chains will ensure your car is stable in all kinds of environment such as snow, mud, mountain and other tough conditions.
The anti-slid chains work by providing a rough surface with its dual threaded and layered pattern so as to increase friction with the road, usually in the snow and muddy road conditions hence preventing tire slid and ensuring your car retain it's normal position on the road.
They are easy to carry and use for any emergency road assistance. You can set it up on your vehicle tires within minutes, and rescue your car from any tough situation or keep it in your car for any emergency use. 
Features
Made from high quality TPU material,  ensures safety and durable use.

Anti-skid thickened tendon design, effective for snow, mud and mountain climbing.

Easy to install and remove, firm installation.

Resistant to low temperature.

Light weight will not damage car tires.

Suitable for most of car tires.

Don't damage the ground.

Helps to stabilize the car, runs without vibration.

These Car Tire Anti-Skid Snow Chains ensure a comfortable drive to reduce vibration and noise.

Special fastener, real materials, with strong anti-wear.

Suitable for ice road, snow road and mud road.

Size: thickness 2.5mm; width 19mm; length 900mm. Suitable for tire width between 175 and 295mm.

Net Weight: around 400g (10pcs).
Installation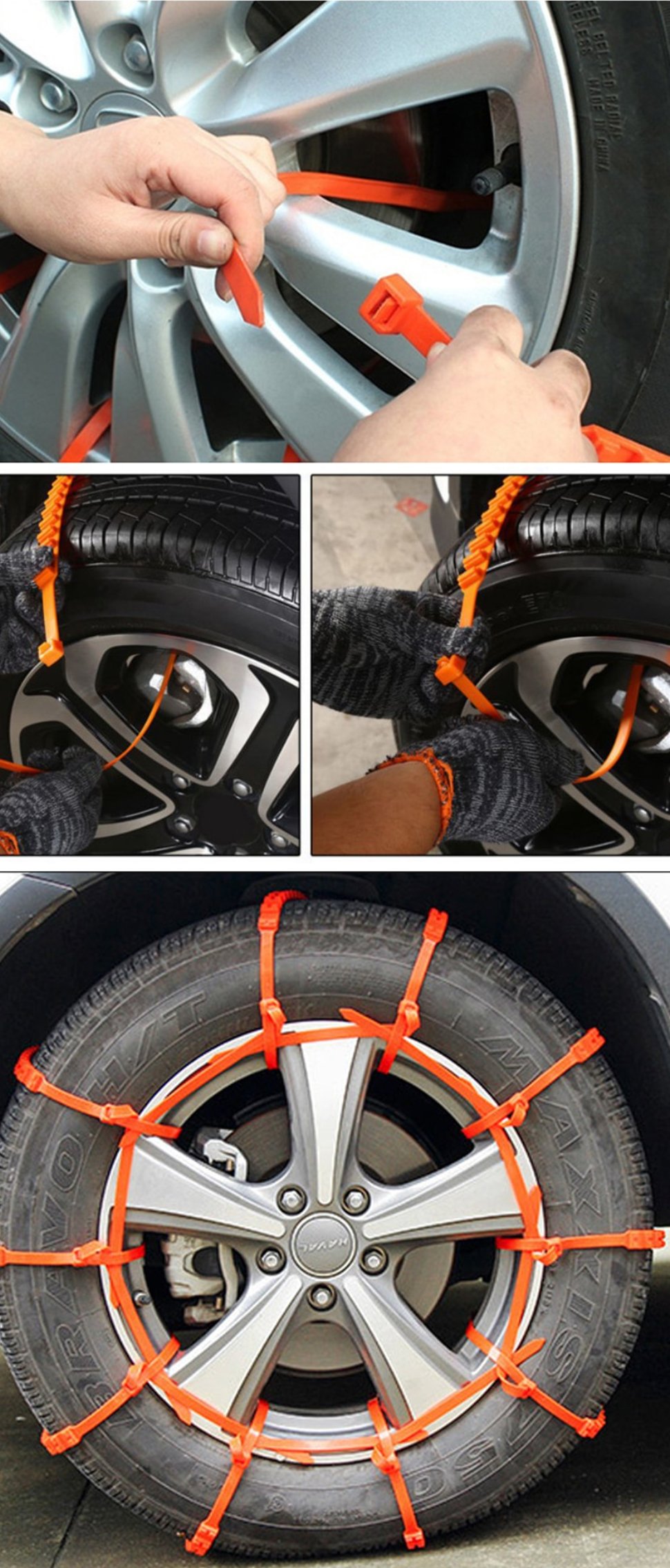 Our Car Tire Anti-Skid Chains is easy to install without moving the vehicle. Just pass the chain through the tire hole and make a knot at the edge. Do the same thing for all 10 pcs. To remove, un-tighten the knot using a spanner and then pull one chain away to separate them.