Blackhead Removal Nose Strips Pore Cleansing
Rp414,884.90 – Rp630,249.70
Say goodbye to blackheads with our Blackhead Removal Nose Strips that instantly cleans and unclog pores to leave your skin feeling fresh in just 10-15 minutes. In addition, it is not only for the removal of the blackhead, but it deeply cleanse and remove makeup residues, toxins, grease and acne, dead skin, balance oil secretion, and shrink pores.
Benefits
Instantly clean and unclog pores to purify your skin in just 10-15 minutes.

Help to get rid of pore-clogging build-up, dirt, oil, and blackheads.

With continuous use, it reduces appearance of blackheads and you can expect visible reduction in size of your pores.

Control oily skin, adding these nose strips as your skin care routine, help to remove dirt and oil from your pores, leaving your skin feeling fresh and clean.
How to Use
Wash your face, thoroughly wet your nose, as the strip won't stick if nose is not wet enough.

Apply the strip to moistened nose area with the shiny side facing your skin. Press down and smooth out air bubbles, ensuring good contact with skin.

Leave it on place for 15 to 20 minutes to dry or until it is stiff to touch.

Once the strip has dried, slowly and carefully peel off starting at edges, pulling toward center.

If the strip adheres too strongly to skin or is painful to remove, wet the strip thoroughly until strip slides off easily.

Finally, tap some toner or essence on the nose.
How to Use Blackhead Removal Nose Strips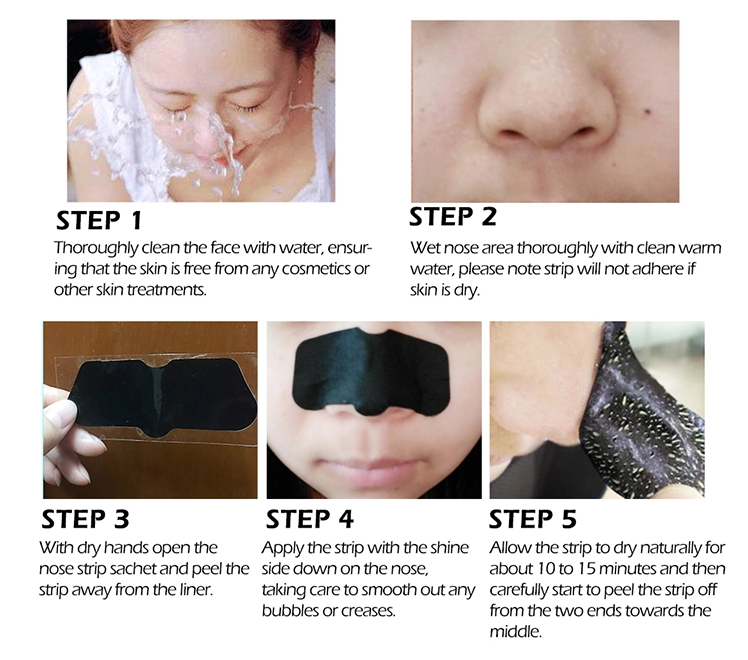 Our Blackhead Removal Nose Strips contains the absorbing ingredients extracted from carbon powder. It is mild and no stinging which helps to absorb excess oil on skin, remove dead skin, blackhead and shrink pores. These strips enable the skin to remain clean and smooth and at the same time prevent growth of new pimples.
It's ingredients includes water, bamboo, charcoal, witch hazel extract, yellow collagen, allantoin and glycerin, all these ingredients have an obvious effect in adjusting the moisturizing ability of these strips. Also, they do act as antibacterial and detoxification strips and help to promote skin metabolism, activate skin cells regeneration, all of these functions lead to a healthier skin.