Adjustable Portable Laptop Stand Invisible Design
Whether you are working or just enjoying watching a movie at home, we truly believe comfort is everything. This is where this Adjustable Portable Laptop Stand comes in handy. Using your laptop in the wrong position can be bad for your health.
Depending on what position you are in when you use your laptop, you will be putting pressure on various parts of your body such as your neck and back leading to pain. 
Slight adjustments such as lifting your laptop a few inches higher may be the only thing you ever need to make your surfing/work experience as comfortable as possible. With our laptop stand, you are assured of increase in comfort.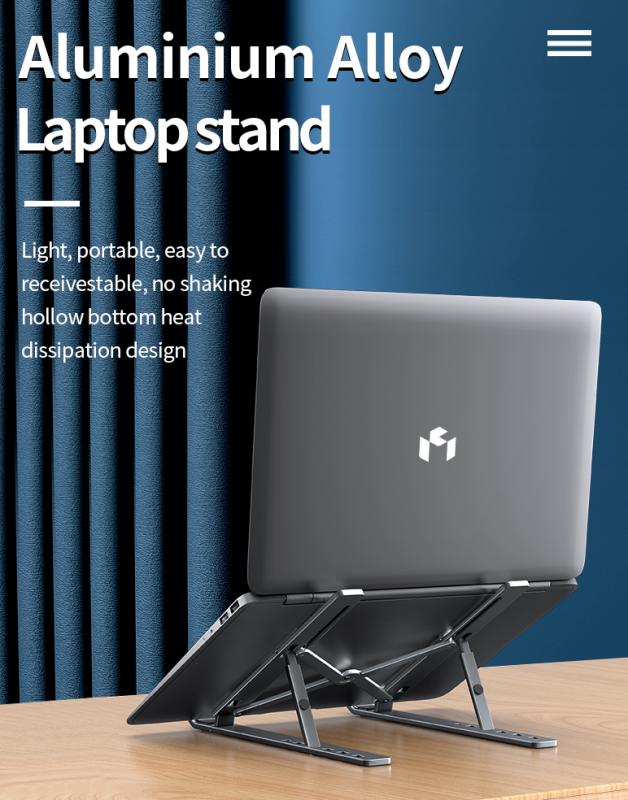 Made of Aluminum Alloy material, it is foldable with different levels of adjustments. Guaranteed to give you the comfort you have been looking for and save your back and eye from unnecessary pain.
Benefits and Features
Portable and Invisible – Easy to move it from one place to another.

Our Adjustable Portable Laptop Stand features a slim and fashionable design yet very firm and durable.

Easily adjustable to different heights. No more slouching and no more back and neck pain.

Suitable for both indoor and outdoor. Especially designed for you to enjoy internet or surfing while on bed, carpet, desk or lawn.

Heat dissipation design.

Can be used on all kinds notebook computers.

Non slip laptop stand. No shaking or tilting, stay still in all places.
Specifications
Aluminum alloy material.

Mini collapsible.

Silicon anti-skid

Six speed height control.

Hallowed-out cooling.

Multi-size compatibility.

Attach the laptop stand to the corresponding position on your iPad or laptop.

The stand securely attach to the back of your laptop.

Elevate your laptop to the desired height based on desired levels of elevation.