9 in 1 Push Up System Muscle Training Board
Our 9 in 1 Push Up System Muscle Training Board is an innovative tool that is created to help you attain maximum gains from your upper body workouts. Because of its revolutionary design, this trainer stand is the only one you'll ever need. The color-coded board makes it easier than ever to work on a particular kind of group of muscles, at a time. With this amazing trainer stand, you can achieve the body of your dreams faster than ever!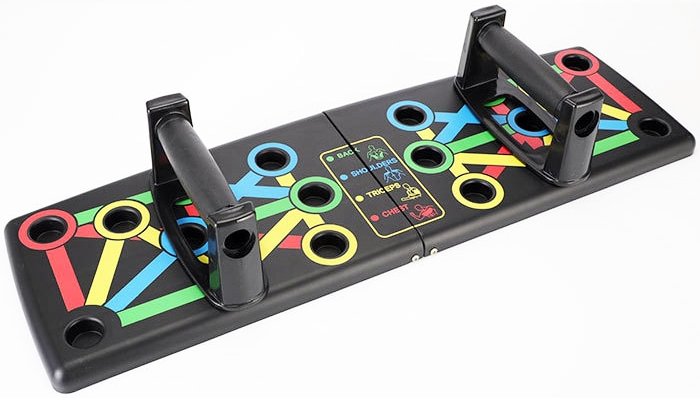 For most people, especially the beginners, it can be challenging to know how to do a push-up in certain ways or to workout a particular muscle but with this push up board it's now straight forward. Basically, each board color show you the position of push up needed to strengthen a specific muscle group.
Our invention is not difficult to use. You simply place the board on the floor. In the middle of the board, it explains which colors represent which muscle groups. The back muscles are represented by yellow, blue represents chest, green strengthens triceps, and red strengthens shoulders.
All you have to do is to lay the board on a flat surface, place the push up bars on the muscle group you want to work out, and you are ready to go! These bars click into place to provide you with safest and best possible way to workout your upper body muscles.
Benefits and Features
Help you work on different parts of your upper body

Easy to understand how to use

Non-skid platforms for safety

For both men and women

Comes with everything you need to get started

Perfect upper body workout for beginners as well as advanced 

It's foldable and lightweight, making it easy to carry from one place to another

Non-slip handles prevent injuries

Simple and easy to assemble

Help you burn calories quickly
In order to give you the experience of an even better workout, we offer different types of 9 in 1 Push Up System Muscle Training Board. We have a whole one for people who need a super sturdy board, a fold-able one for people who are constantly on the go and want to workout anywhere and at anytime, and one that comes in two pieces for other people who need to fit their board in tiny storage spaces. No matter who you are, we have the perfect trainer board that is designed just for you.