4 in 1 WIndow Cleaning Spray Wiper Brush Kit
You Save: £25.92 (49%)
6010 in stock
Our 4 in 1 WIndow Cleaning Spray Wiper Brush Kit cleans groove and gap of the window, door, sliding track, keyboard, furniture, home appliances and other small gaps that are difficult to clean.
Basically, this single tool will solve your different cleaning needs at the same time. No more messy and tripping cleaning tool. Create a clean and tidy home environment for you and your family.
Features and Benefits
Multi-Purpose – 4 in 1 includes; a glass scraper, cleaning brush, sponge wipe, crevice brush. You can use these brushes in various situations, especially for daily cleaning of tile, sink, window, floor, glass, etc.
Versatile – Free to use our cleaning brush with water bottles, or use it with beverage bottles, suitable for most water bottles. It can also be reused, the replacement of brush head is simple and easy to clean.
Strong Cleaning Power – The bristles are not easy to wear or fall off and are hard enough to scrub rough concrete surfaces, or they can be used to scrub floors, effectively removing dirt and stains. Help you totally clean all the stains from the cracks, counter tops, glass, floors, and other surfaces.
Wide Range of Application – This 4 in 1 WIndow Cleaning Spray Wiper Brush Kit can be used for different purposes. Clean brush-remove stains, suitable for the sink, balcony, wall; glass scraping, remove water stains, suitable for glass, mirror, floor drill; sponge wipe, suitable for bathtub, and washbasin; crevice brush suitable for floor tile.
Ergonomic Non-Slip Handle – Streamlined handle for comfortable grip, anti-skid handles, making it easier to clean, can be held comfortably in the hand for easy use.
Specification
Material: PP, ABS, Rubber, PET

Size: As shown

Product Color: White

Packaging Includes: Cleaning brush, glass scraper, sponge wipe, and crevice brush.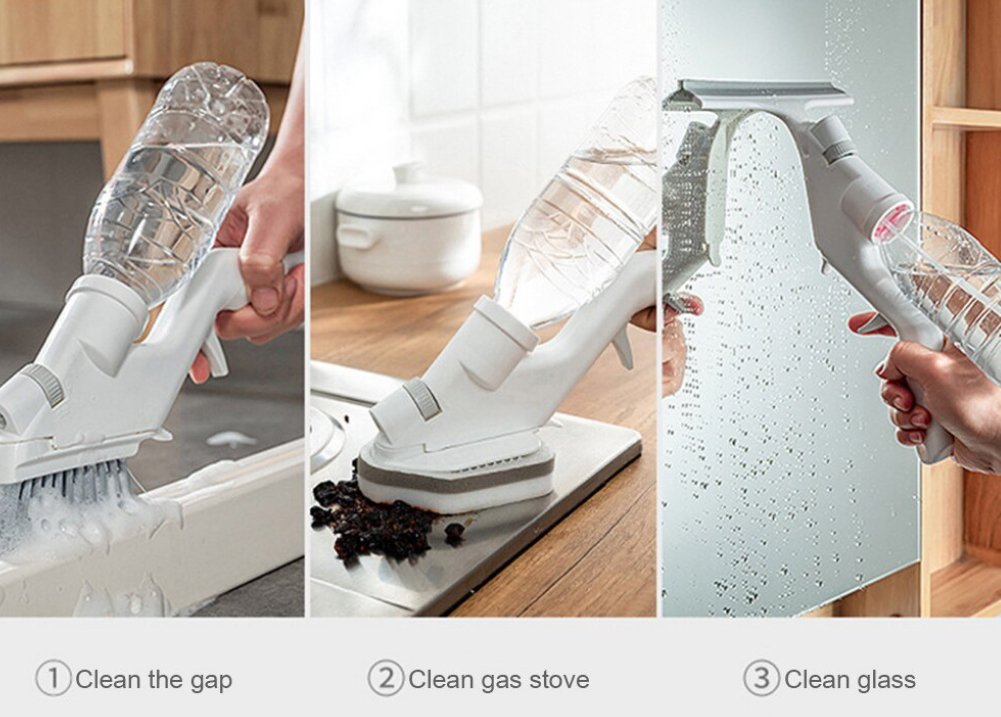 Simple Click Operation – Easy lock and release mechanism makes changing heads quick and easy. NO TOOLS REQUIRED. Smart swap interchangeable design saves you time and energy.
Package Includes:
Cleaning brush

Glass scraper

Sponge wipe

Crevice brush